REAL ESTATE  & PERSONAL PROPERTY AUCTION  
SAT., AUG 25th, 2018
8421 Aqua Drive,  Nekoosa, WI 54457
Personal Property@10AM      REAL ESTATE@ NOON
Directions:  From Nekoosa, take State Road 73 South to left turn on Church Ave. Follow Church Ave. to left turn on Aqua Drive to sale site. From Hwy 13, take State Road 73 North 3 miles to right turn on Hollywood Road. Left turn on Ranger Road and follow to corner of  Aqua Drive to sale site.  Watch for signs!!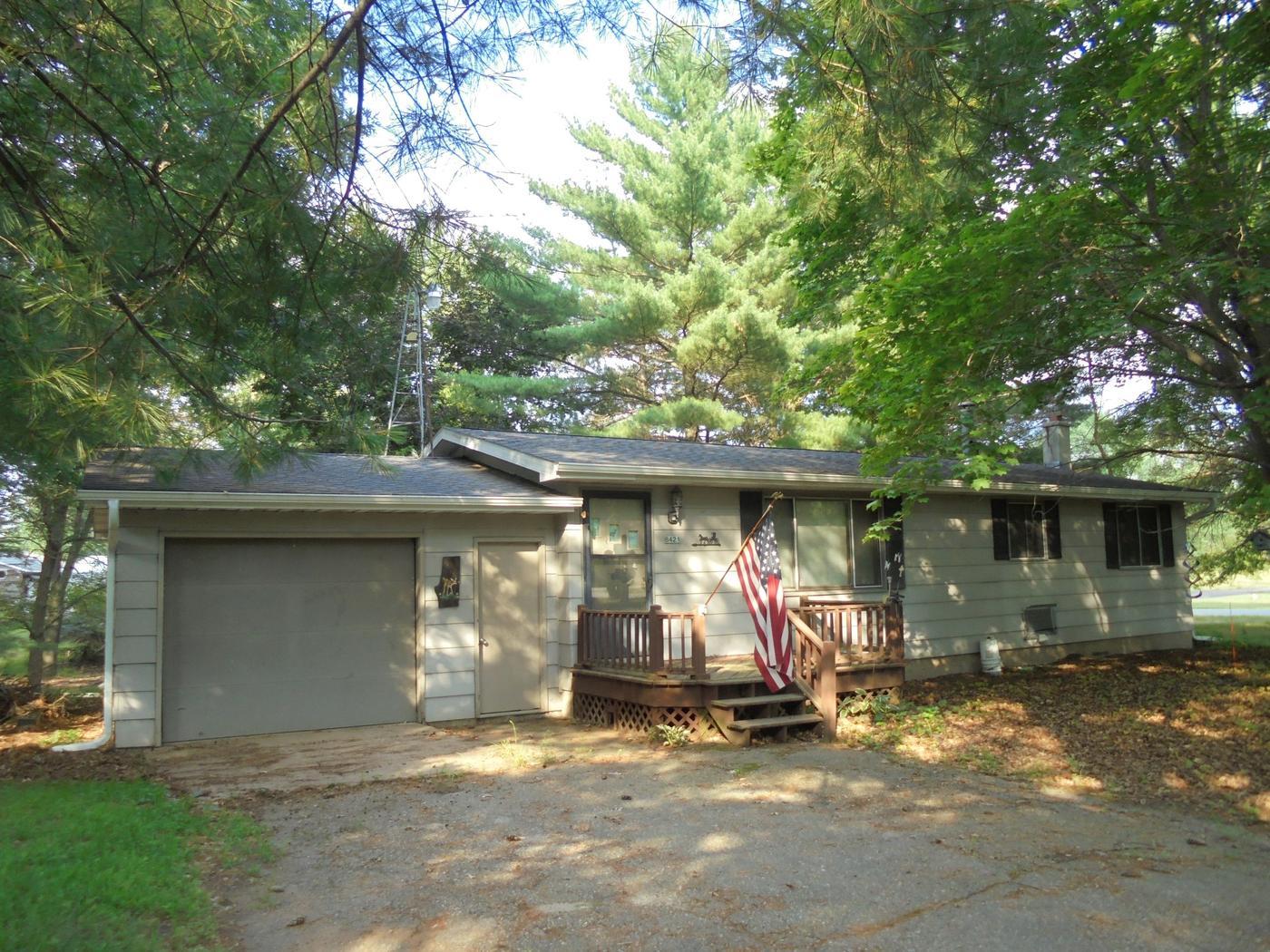 Make This Home Yours!
                           3 bedroom/ 1 bath home located on wooded corner lot just                                      outside of Nekoosa, WI.   Full basement, one car garage, natural                              gas heat, updated well & roof, 20' x 30' pole shed and much more!                                                                                    Must see!
         Real estate to be offered at auction on Sat., August 25th at 12pm with 10% buyer's fee  added to final bid           price on real estate only.  $5,000 down on day of sale with closing in  30 days.  Real estate sold as-is.                                                      Preview showing appointment may be made by calling 920-765-0707.
Personal Property:  ​  LARGE SELECTION OF MACHINISTS' TOOLS, MICROMETERS, ETC.
Lawn darts, misc. tools, wood splitter, lawn tractor tires, McCulloch & Johnson outboard motors, platform scales, 1-ton chain hoist, steamer trunk, metal road signs, wheelbarrow, bikes, Squirt wooden box, iron wheels, misc. garden tools, jack stands, old chain saws, old hub caps, 1953 Ford tail lights, Holley 1-barrel carburetors for '59 Edsel, milk cans, hit & miss engine cart on w/wheels, electric wire, boat gas cans, skill saws, pipe vise, dresser, Craftsman   8 1/2 hp snow blower, metal traps and skinning boards, field glasses, beer mugs, vacuums, carpet cleaner, silverware, electrical supplies, chess set, meat slicer, buttons, sewing supplies, metal boxes, Roseville vase, fishing reels & boxes, wooden plugs, rods & reels, wood ironing board, cap guns, Coca Cola bottles, snowmobile helmets, kids' wooden rocker, hog scrapers, 20lb LP tanks, hobby welder, socket sets, router, car buffers, 4" grinders, soldering irons, wooden level, tool chest, 3-burner cast iron kerosene burner, open & box end wrenches, electric fans, battery charger, table saws, electric weed trimmers, car jacks, hand saws, bug zappers, saw blades, hand potato planter, forging tools, vice, electric motor, air compressor, battery charger, old radio tube testers, old phone, Singer sewing machine, c-clamps, horse shoes, drop cords, sleigh bells, Allen compound bow, Ben Pearson recurve bows, machinists tools & tool boxes, air tools, Workmate, paint sprayer, large micrometer, sockets up to 2 ¼", wooden bench, knives, Coleman lantern, picnic table, lawn chairs, croquet set, rivet guns, books, table lamps, old scales, 3 gal. crock, aluminum extension ladder, twin bed, Griswold cast iron pans, window air conditioner, shop vac, car ramps, creeper, rakes, shovels, forks, refrigerator, gun rack, pots & pans, mantel clocks, pictures, Jim Beam decanter, 1918 train set, 45 records, shelving, hand cap guns, baskets, fire truck, oil lamps, airplane clock, cuckoo clock, floor lamps, VHS & DVD's, office chair, 24" flat screen tv, handicap supplies, watches, projectors & screens, telescopes, kid's toys, cooler, chest of drawers, microwave, jewelry, metal cabinet, brass pieces, stereo & speakers, music boxes, Christmas décor, fruit jars, old typewriter, Schlitz beer sign, floor & box fans, folding chairs, cb's, cigar boxes, carpenter's tool chest, Hot Wheels, box cameras and much more!                              
Special:   16' V-Hull Shell Lake fiberglass boat & trailer w/Johnson motor, 1982 Yamaha 400 motorcycle w/title, new twin 18hp Briggs & Stratton gas engine w/electric start, (2) 2-wheel 5ft x 10ft trailers
THIS IS JUST A PARTIAL LISTING!!!
Terms:  No Buyers' Fee will be accessed on personal property.  Cash or good check.  Owners, auctioneers or auction staff are not responsible for accidents.  Statements made on day of sale by auctioneers and owners take precedence overran any and all printed matter.  The information given is believed to be true and correct to the best of the owner's knowledge.  There are no guarantees expressed or implied.  Everything sells "AS IS", "WHERE IS".  All sales will be considered final when awarded to the highest bidder.  List is subject to change.
JOHANNES AUCTION SERVICE, LLC
HOWARD JOHANNES
WIS. REGISTERED AUCTIONEER #762
920-229-7440    johannesauction@gmail.com